How can I get proper plastic pallets for my industrial applications? This may be the main question you must ask yourself before purchasing the plastic pallet. One of the main factors you must keep in mind is choosing right classification of plastic pallets based on the loading capacity. This means the weight of the cargo you want the plastic pallet to bear in different modes. Any application has its characteristics, and you need to know what you need the plastic pallets to do. Therefore, deciding on a suitable plastic pallet based on load capacity is an initial step. Afterward, the plastic pallet properties reveal whether it is ideal for the usage and the product you tend to put on the pallets.
Do you need plastic pallets for export purposes? Do you want to use sturdy plastic pallets for heavy cargo transportation? Do you tend to use plastic pallets for warehouse flooring? Do you need plastic pallets to save space in your warehouse?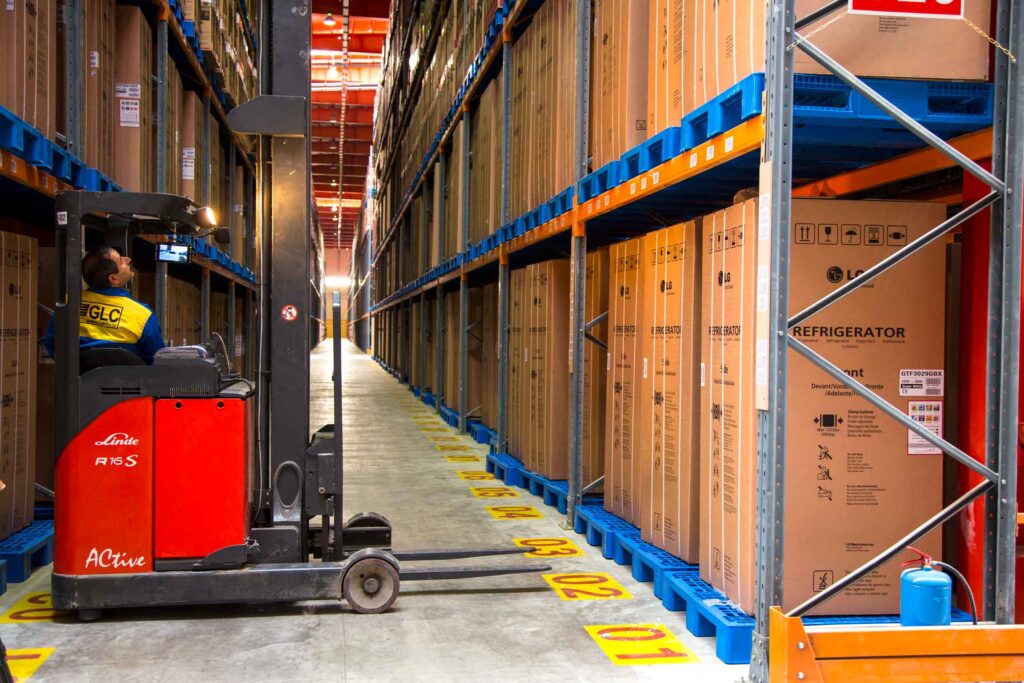 The key points you have to consider in deciding to choose the right plastic pallets are summaries below:
Weight of products: It is important to know the total weight of the products you want on the pallet for storing, shipping, and short or long transporting.
Packaging dimensions: Another vital factor is the dimensions of your packaging. Does your product have any packages? Does your product's weight distribute evenly on the pallet?
Frequency of use: The frequency of using the plastic pallet in industrial circulation plays an important role in choosing the appropriate plastic pallet. How many times do you often use the plastic pallet in its lifespan? Is it for one-way shipping?
Used or New: The condition of the plastic pallet is also significantly important. If the plastic pallet is second-hand or rented, it has been used many times before it comes into your hands, so you need to know how much time has passed from the useful life of the plastic pallet.
Where to use: Where you want to use the plastic pallet is important in your decision.
Budget: Last but not least, the budget and how much you want to invest in purchasing or renting a plastic pallet play a prominent role in your decision, while your concern is about using strong and healthy plastic pallets for a long time.
Here we are describing different types of plastic pallets based on the most general classification, i.e., loading capacity. It leads you to answer those above questions easier with more confidence. The variety of plastic pallets based on load bearing is 3 types; Lightweight/light-duty plastic pallets, Medium-duty plastic pallets, and Heavy-duty plastic pallets.
Before understating plastic pallet weight capacity, it is necessary to clarify that 3 different loading conditions distinguish plastic pallets. They are Static Load capacity (S.L.), Dynamic Load capacity (D.L.), and Racking Load capacity (R.L.). Therefore, before digging into plastic pallets based on load capacity, it is important to know three kinds of load capacities:
3 different loads in plastic pallets
Static Load (SL) capacity:
Static capacity reveals how much a pallet can hold at maximum without significant bending based on standards ISO8611 IMSO16585-1. In other words, static load refers to the maximum weight a pallet can support when it is at rest in an un-moving mode for example, on the floor. This measurement focuses on static applications such as storing products on even surfaces. Mostly, ware using plastic pallets in stationary applications. Some examples are storing and transporting goods when the pallet is not moving like in containers or trucks. The static load of plastic pallets varies and is directly related to the structure, features, weight, top surface, and decks of a plastic pallet.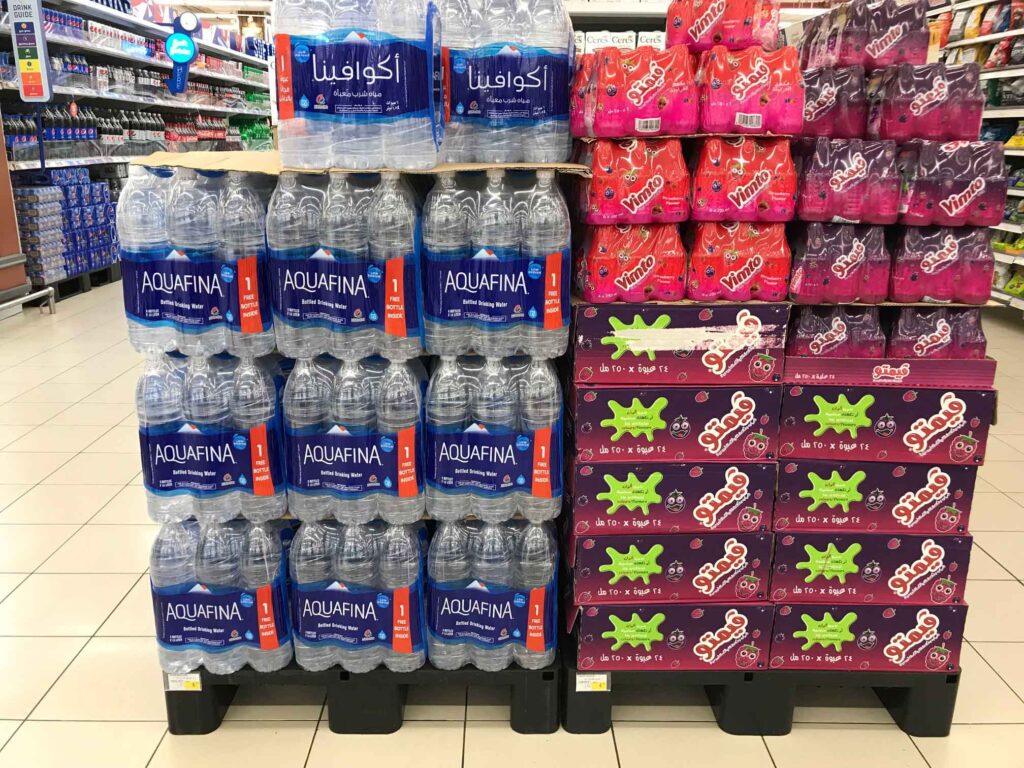 Dynamic Load (DL) capacity:
The opposite of static load, dynamic load describes the pallet tolerance when it is on the move. It means the maximum evenly distributed weight that a pallet can hold. For example, when moving by a forklift from point A to point B or being raised by industrial pallet trucks for a while. Remember that dynamic load capacity is always less than static load. Standard ISO8611 assigns the tolerance of pallet bending when it is not in a static mode. Generally, it is based on plastic pallet structure, net weight, and features. However, the plastic pallet should not break under load or bend more than standard tolerance in dynamic applications. It is important not to consider a straight-line conveyor belt as a dynamic motion for plastic pallets.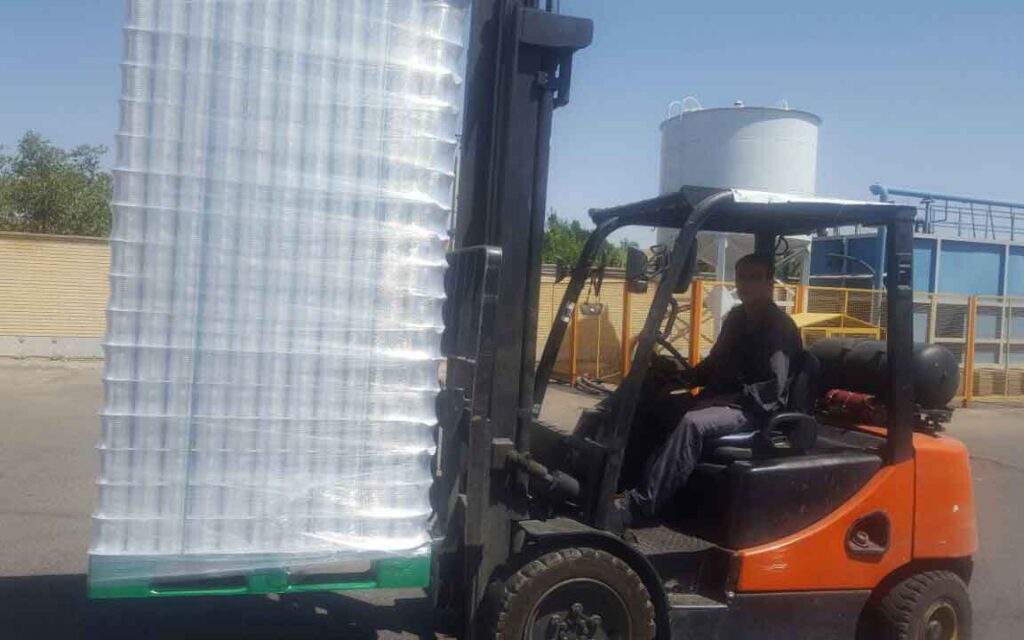 Racking Load (RL) capacity:
The last capacity load classification is the racking load which is not determined for all plastic pallets. The racking load capacity means the maximum possible weight a plastic pallet can hold where the center or edges of the plastic pallet are loose. For example, on the racking systems, pallet shuttle systems, forklifts, pallet trucks, and hand-jacks, i.e., unsupported condition. From this definition, we easily understand why all plastic pallets cannot have a racking load capacity. Because we can apply the specific types of pallets for the racking system purpose. For example, putting a plastic pallet with six or nine feet on a racking system might cause a fall from the racks.
Like the other two load capacities, the racking load differs from one plastic pallet to another. Many factors play a role in increasing the racking load capacity, such as reinforcements, types, the number of skid runners, etc. The important fact in using rackable plastic pallets in the racking system is overweighing them by loads. The pallet can be seriously damaged and broken, causing damage to the goods being stored on the pallet and the racking system.
Leading to the above explanation about 3 classifications of the capacity ratings, it is time to describe the 3 main plastic pallet groupings from a loading capacity point of view. This classification refers to 3 main groups of plastic pallets based on loading capacities.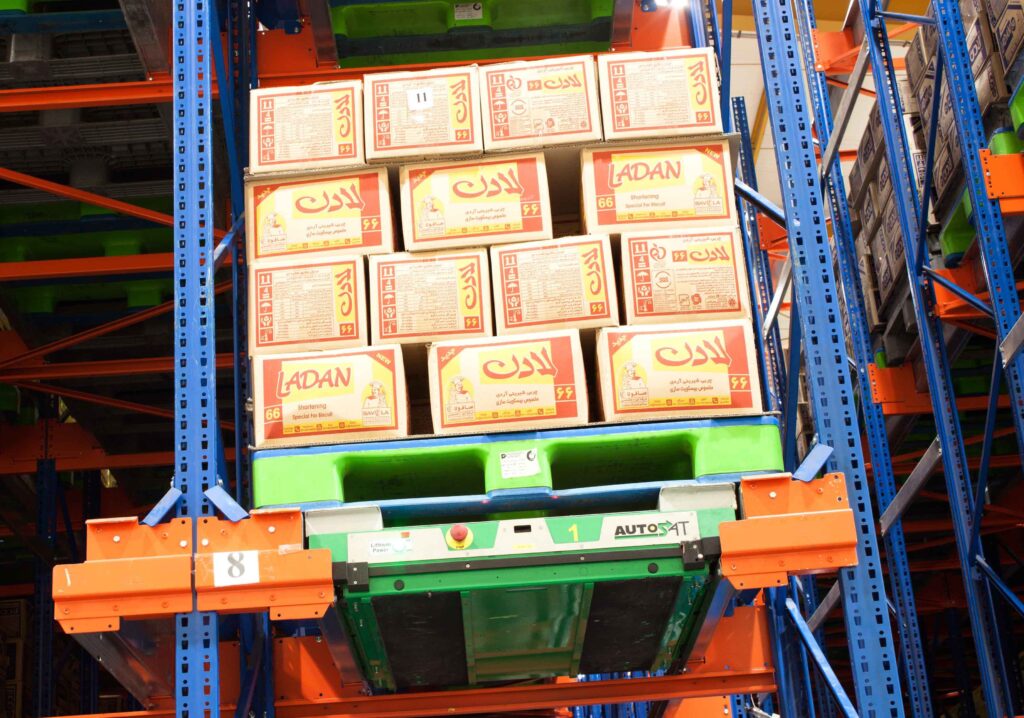 3 main classifications of plastic pallet based load capacity
Plastic pallets are significantly important for material handling in any industrial context and most aspects of the modern supply chain. The importance reveals itself when choosing a plastic pallet among many types and styles. But first, we have consider the plastic pallets based on the loading capacity. It reveals how much we expect the plastic pallet can bear in different conditions.
Lightweight/ Light-duty plastic pallet
The lightweight pallets refer to a kind of plastic pallets produced in a lighter weight in terms of the quantity of the plastic material used for injection. Like other plastic pallet counterparts based on loading capacity, the properties of light-duty plastic pallets can vary for different usages, even for a racking system. However, light-duty plastic pallets can bear the light weight of cargo. Usually, the static load capacity is between 1000 to 1500 Kg, and the dynamic load is between 500 to 1000 Kg. If the pallet is rackable, the racking load capacity is not considerable and is around 200 Kg.
Consequently, lightweight plastic pallets are cost-effective and durable enough for specific applications. Generally, we use lightweight plastic pallets for export pallets, i.e., one-way or one-time-use pallets. Hence, the plastic pallets never come back to their origin. Light-duty plastic pallets are ideal for one-trip applications and logistics operations. Because they have appropriate strength and sturdiness to withstand during transportation and land or ocean journeys.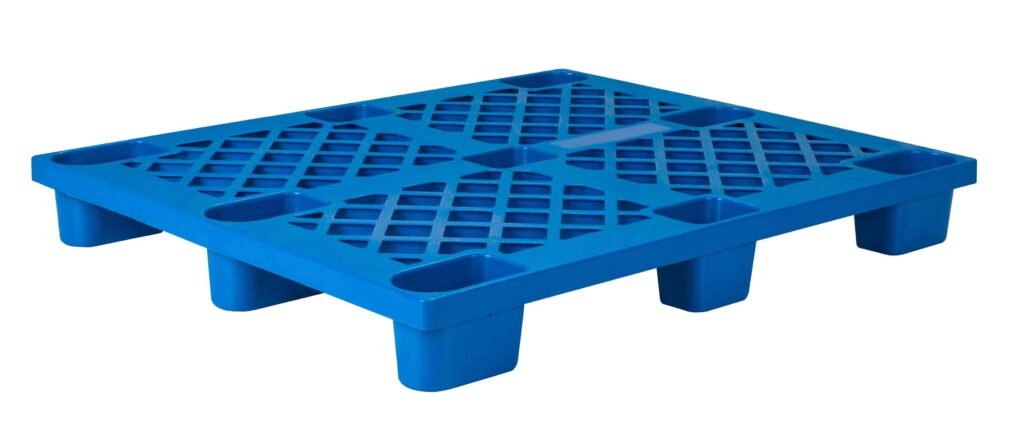 In addition, among all plastic pallets classification based on loading capacity, using light-duty plastic pallets is very common. For instance, in air freight sections, the concern is that plastic pallets as packaging tools must be made at a lower self-weight. Using lightweight plastic pallets as display pallets is another application we can name. Light-duty plastic pallets apply to display products in some locations, such as groceries, supermarkets, or shops. Usually, light-duty pallets do not have skid runners. Plastic pallet manufacturers design lightweight plastic pallets mostly based on feet.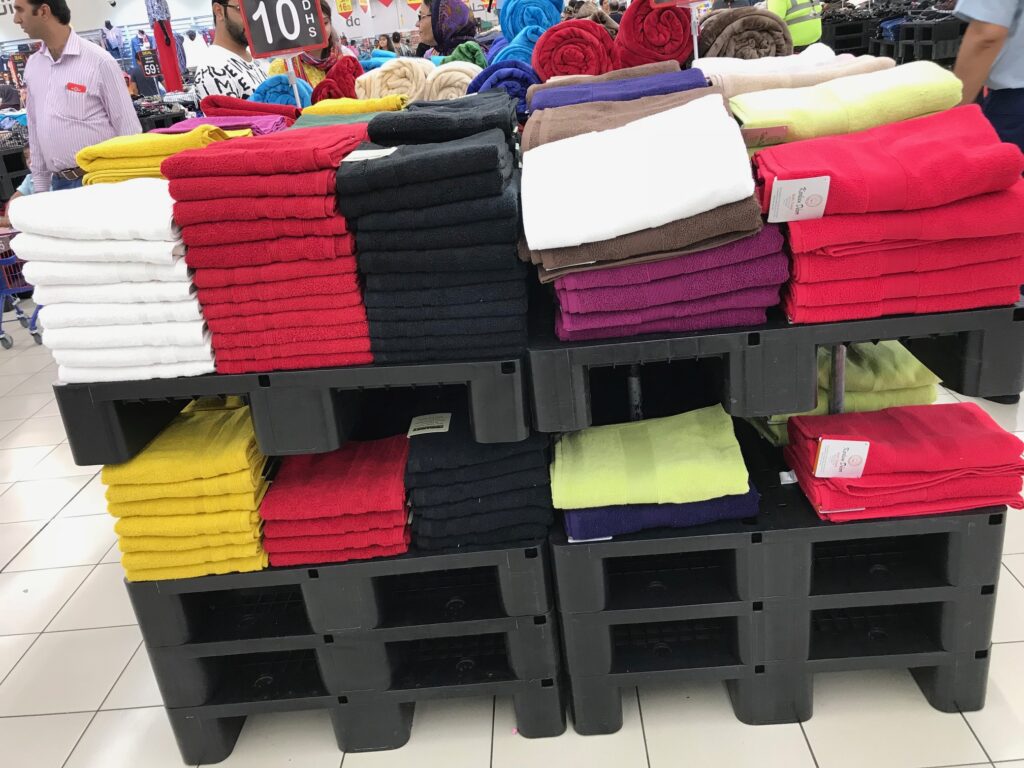 Medium-duty plastic pallet
The second classification of plastic pallets based on loading capacity is medium-duty plastic pallets. Medium-duty plastics refer to those plastic pallets with a static load capacity between 1500 to 3500 Kg and a dynamic load between 700 to 1250 Kg. If the pallet is rackable, the racking load capacity is 400-700 Kg. We can use medium-weight plastic pallets in various applications since they have rigid structures and stability for many industrial applications. In plastic pallet industries, medium-duty plastic pallets are widely produced in different features and designs. Since it is appropriate for many industries, such as warehouse flooring, internal warehouse processes, cargo turnover, and automated warehouses.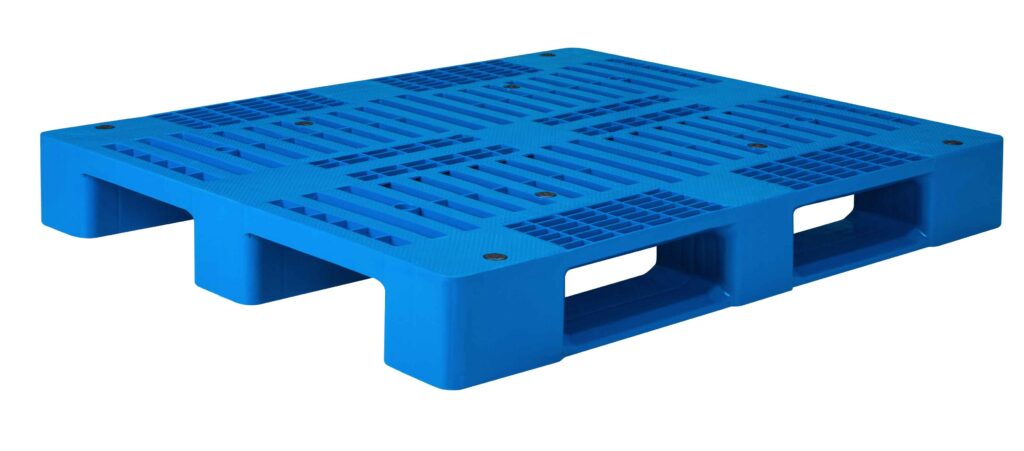 Although the cost of medium-duty plastic pallets is higher than lightweight ones, they are so popular and still cost-effective due to wide usage in many industrial and distribution contexts. Medium-duty plastic pallets are stable and sturdy to withstand unharmed upon pallet abuse, drops, and harsh hits reasonably. However, suppose your industry needs a stronger and more durable plastic pallet with high impact and hit resistance. In that case, the best choice after the medium-duty plastic pallet is a heavy-duty plastic pallet.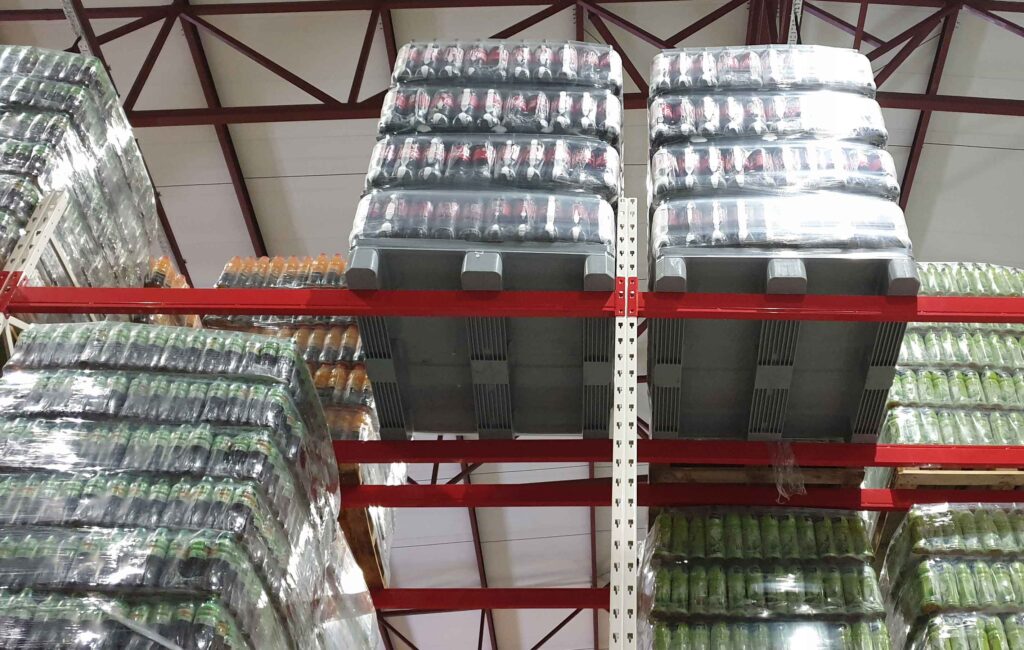 Heavy-duty Plastic Pallet
The last classification of plastic pallets based on loading capacity is a heavy-duty plastic pallet. As it is clear from the name, heavy-duty plastic pallets are designed for storing, transporting, and stacking heavy cargo. Plastic pallet producers construct them stronger and more durable, particularly at high load-bearing capacity, than the lightweight and medium-duty plastic pallets. The main purpose of producing heavy-duty plastic pallets is to bear significant loads in static, dynamic, and racking modes and other applications. Usually, the static load capacity is between 2000 to 6000 Kg, the dynamic load is between 1250 to 2000 Kg. If the pallet is rackable, the racking load capacity is between 800 to 1500 Kg. The heavy-duty plastic pallets are ideal for storing and stacking heavy products or uneven products like jumbo bags in high racks. At the same time, the self-weight of plastic pallets is not too heavy to hinder operators' jobs.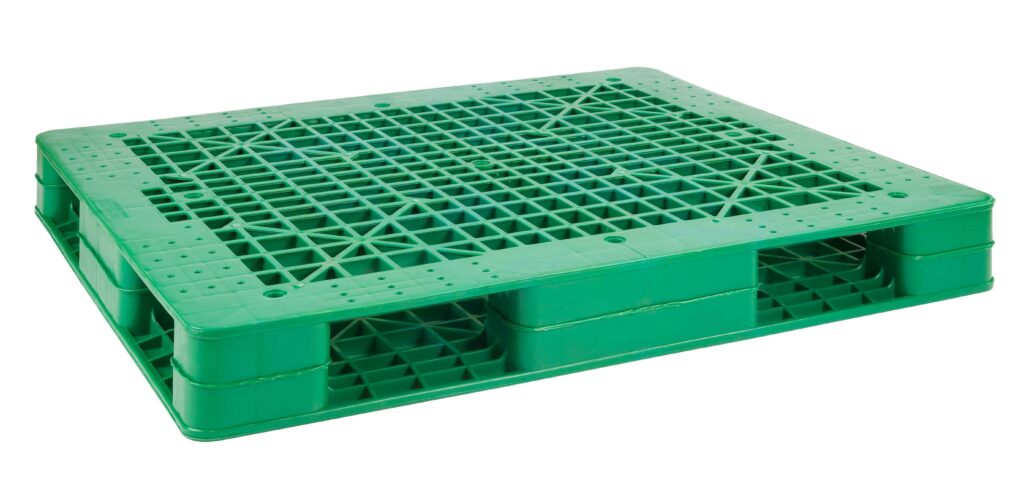 Heavy-duty plastic pallets open opportunities for greater operational efficiency and guarantee trouble-free operations. Because of the strength, high impact, and hit resistance, reinforced durability of heavy-duty plastic pallets, their lifespan is considerably longer. There is no need to change them so frequently, which contributes to cost saving in your industrial circulation.
Furthermore, heavy-duty plastic pallets are tough, dense, and extremely robust during transportation and logistics applications. Hence, they can absorb sudden shock encountered in the industry and maintain structural integrity and strength. Consequently, heavy-duty plastic pallets are the best alternative for everyday internal tough industrial operations. In short, heavy-duty plastic pallets are ideal for heavy-duty processing in many places. In warehouses, conveyors, pallet shuttle systems, racking systems, ASRS systems, mechanized handling of inventories, and forklift and pallet trucks. That is why many call heavy-duty plastic pallets warehouse plastic pallets. Since, in any internal circuits, we demand the strongest and the most durable plastic pallets based on loading capacity.
Additionally, in modern supply chains, many companies tend to invest in renting plastic pallets rather than purchasing them. The heavy-duty plastic pallet is the ultimate choice in pooling systems. The stronger the plastic pallet, the easier a company can trust for rent. In this context, the pallets' durability and strength ratio is a MUST. The pooling companies mostly supply heavy-duty plastic pallets more than other counterparts. They assure of providing durable and strong plastic pallets to their customers.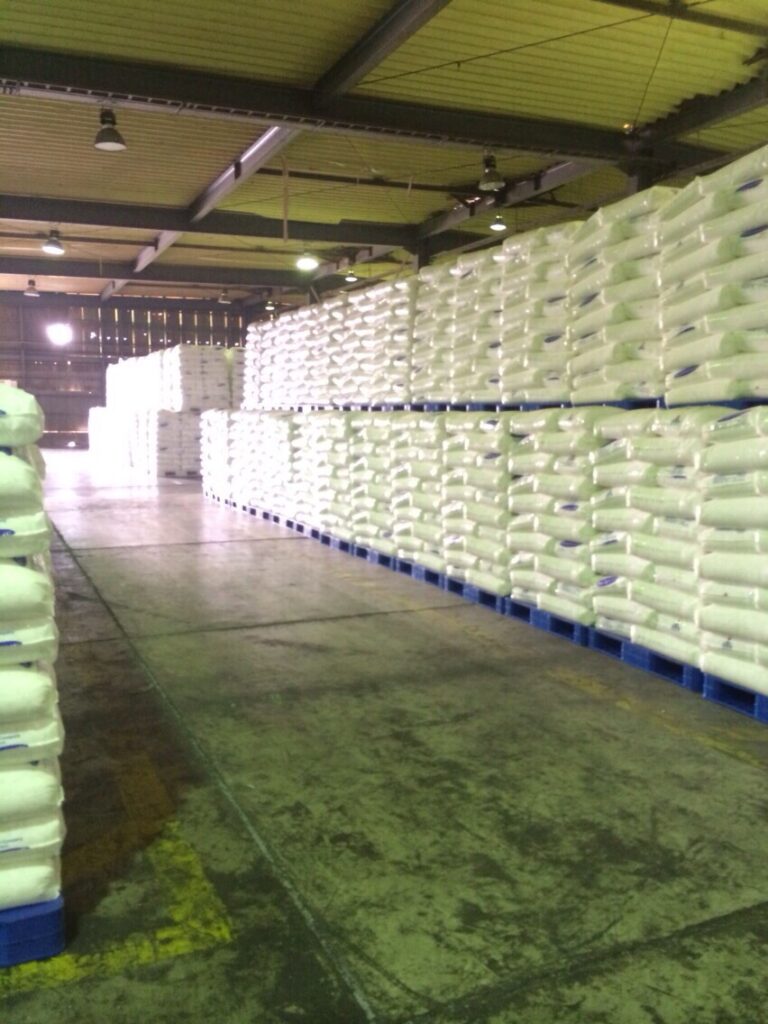 Conclusion
Now we understand the main classification of plastic pallets based on loading capacity. Each type of pallet with specific properties leads to a loading capacity. Based on your industrial demand, you will need to decide which style suits your needs depending on your business. We, IranPlast Group, are here to help you choose the best possible plastic pallet based on your needs. Please feel free to CONTACT US for more information, data, prices, and any other information.